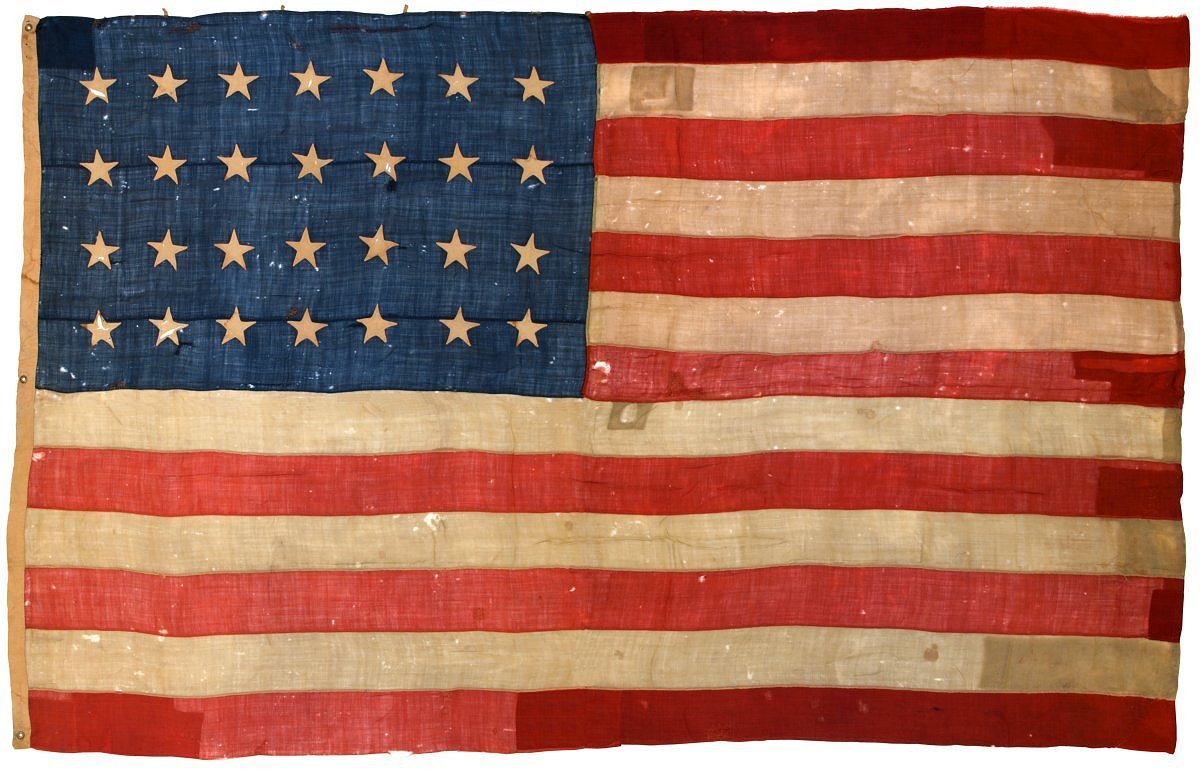 This magnificent flag dates to the time of Texas statehood circa 1846. There are several characteristics of this flag that make it evident that it was made for maritime use. The size of the flag, style, and construction, being made of wool bunting with single-appliqué cotton stars, is consistent with other known ship's flags that pre-date the Civil War. Of the few that survive, most are very well maintained. They show evidence careful, deliberate repairs, including darning, replaced fabric, and reinforced patches. These flags weathered years of use at sea under heavy winds and the most severe conditions. They were made of the highest quality wool bunting and materials. Inevitably, though, they sustained losses and tears, some of which resulted in entire portions of stripes to be replaced with various pieces of fabric. Seeing the multitude of repairs to this flag, one can imagine the repeated episodes of wear and tear over many voyages at sea.
One interesting type of repair that is common on many of these ship's flags is the presence of double-reinforced patches. You can see two of these types of patches on this flag, at the top-center and center of the flag. A similar patch is present on IAS-00255, another early and rare ship's flag of 20 stars, dating to 1818.1 One curious aspect of this is the question of why these same types of flags exhibit these same types of repairs. I originally believed that the repairs were the handiwork of sailors at sea, and that they learned the repair techniques from other sailors in the course of their seaboard duty. But what is more likely is that most repairs were made in port. Once a ship arrived in port it would undergo repairs and refitting ahead of the next voyage. The ship's flags, which were extremely important and costly items in a ship's inventory, would also have to be repaired. Seamstresses in seafaring towns would have done brisk business repairing clothing, sails and ship's flags. They would have expertly repaired tears by patching and darning them, and if necessary, by replacing whole lengths of fabric with various materials they had at hand. The flag's hoist does have crimped brass grommets, and metal grommets weren't patented until 1854, but the hoist itself is a sleeve hoist, which is correct for the Mexican War period, and the grommets were likely added to the hoist a few years after the flag entered service, most likely during one of the many times it was serviced in between voyages.
Flags made prior to the Civil War are are very rare and those with 28 stars, such as this flag, are virtually non-existent. I'm aware of just four or five surviving flags with 28 stars that date to the period of Texas statehood on December 29, 1845. The count was accurate for just 364 days. Its date also falls firmly into the period of the Mexican War, 1846-1848, which followed the annexation of Texas in 1845 under President James Polk. Without question, this flag is of the period, and is a beautiful and extremely rare example of a pre-Civil War ship's flag that saw many years of use at sea.
1 In May, 2012, a series of pre-Civil War naval flags belonging to the USS Constitution, sold at Freeman's Auctions in Philadelphia. Several of the flags, a 26 Star Commodore's Pennant, a 28 Star National Color, and a 31 Star National Color, also exhibit the same type of double-reinforced patchwork.
2 Period writing on the hoist of this flag reads "S.T. Thuralay Loaned by T.P.TUITE" and, in other period ink written at a different time, "508 W. 145ST Manhattan". For this reason, I believe the flag is more likely a commercial maritime flag rather than a navy flag.